Zwzaz - about the trio
Zwzaz - gwybodaeth am y triawd
Zwzaz is a trio with a difference. With a unique blend of Harp, Trumpet/Flugel and Double Bass bringing a fresh new sound to jazz. Playing familiar and lesser known tunes from the jazz repertoire along with original compositions, they capture audiences form the concert stage to the late night jazz clubs. Cris, in his compositions,fuses jazz with the Cerdd Dant tradition of Welsh music or even earlier styles as found in the ap Huw manuscripts of 1613. It is sound that has become uniquely Zwzaz!
Trio gyda gwahaniaeth yw Zwzaz. Mae ein cyfuniad unigryw o'r Delyn, yr Utgorn/Flugel a'r Basgrwth yn dod â sain newydd a ffres i jazz. Rydym yn chwarae alawon cyfarwydd ynghyd â rhai llai adnabyddus o fyd jazz, yn ogystal â chyfansoddiadau gwreiddiol. Mae dylanwad traddodiad Cerdd Dant i'w glywed ar rai o'r cyfansoddiadau hyn, neu hyd yn oed moddau o oes cynharach megis rhai sydd i'w cael yn yn llawysgrifau ap Huw o'r flwyddyn 1613.
Cris Haines
Biography of Cris:
Hanes bywyd Cris:
Cris studied trumpet at the London College of Music for 3 years and while in London worked and recorded for soul singer Lee Kosmin on Polydor records, as well as working in a wide variety of bands.

Returning to Wales he became a founder member of the Blues Bunch, the first band in Britain to officially register as a workers' co-operative, touring Europe in a converted bus. In 1995 he was commisioned to write a suite for Harp, Trumpet and Double Bass as part of the Year of Literature celebrations in Swansea, this being the fore-runner of the present trio.

He is currently a member of the Mojo Soul Band, Booze Bros tribute band and the Swansea Jazz Ensemble, for whom he arranged pianist Jen Wilson's Dylan Suite which commemorates the 50th. anniversary of the poet's death. Cris also teaches Jazz and other music courses for the Adult Education Department of Swansea University.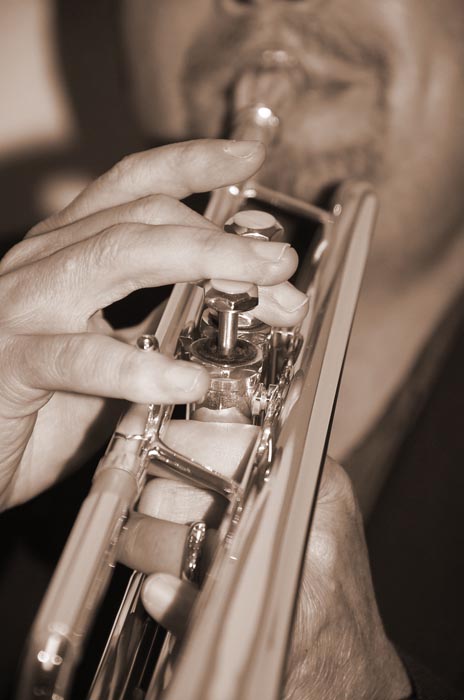 Amanda Whiting
Biography of Amanda:
Hanes bywyd Amanda:
Amanda is one of the most exciting young harpists in Britain today. Her lively character and versatility as a musician result in her being in great demand.

Amanda was born in Cardiff and began studying the harp at the age of six. She furthered her studies at Wells Cathedral Music School where she was the first harpist to obtain a scholarship as a specialist musician. In 1995, she was a National Eisteddfod winner and a recipient of the Nansi Richards Scholarship. Her studies continued at Cardiff University with Caryl Thomas where Amanda gained her BMus Hons Degree and LRSM.

Amanda has appeared on British, Japanese and Sky television, played on various cruise ships and has performed for HRH Prince of Wales, Reverend Desmond Tutu and the Archbishop of Canterbury. She was accepted on to the late Lord Menuhin's scheme 'Live Music Now!' in March 2000 and made her debut at the Purcell Rooms, London in 2002 and St Davids Hall, Cardiff, with Joanne Thomas in January 2003.

In 2004 she supported jazz artist Jamie Cullum where she was spotted by pop icon Dannii Minogue. In September 2006 Dannii invited Amanda to arrange and record her Christmas single 'I'll be home Home for Christmas', which will be released in Australia.

Amanda is at home playing a vast range of music - including traditional, classical, jazz or pop and is currently the resident harpist for The Celtic Manor Resort in Newport, South Wales where they are holding the Ryder Cup in 2010 as well as the televised All*Ryder Cup.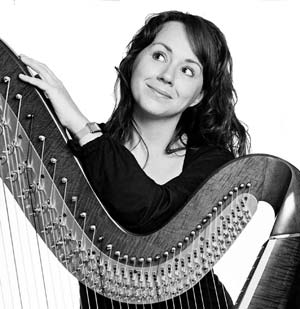 Donnie Sweeney
Biography of Donnie:
Hanes bywyd Donnie:
Donald 'donnie joe' Sweeney was born in Portland, Oregon, raised in Southern California, and first taught music at very young age through Suzuki Piano lessons. He taught himself how to play guitar and was first exposed to jazz by his older brother.

In 1993, he attended College of the Redwoods, where he first studied bass. Under the direction of Dr. Jerry Moore, he played piano in the Big Band, lead by trombonist and band leader Frank 'Dr Bone' Brown, and studied trumpet and saxophone. He also performed with Ed Macan's 'Hermetic Science' and appears on their debut CD.

In 1997, he attended the University of Washington, Seattle's Jazz Studies program. There the head of jazz studies and his mentor, Marc Seales, coined him 'donnie joe'. That's also where he switched from electric bass to double bass with guidance from jazz bass player Doug Miller. He also studied with internationally renowned double bassist, Barry Lieberman. The UW gave him the opportunity to study with the likes of Jay Thomas (trumpet), Julian Priester (trombone), Larry Coryell (guitar), Rufus Reid (bass), Jessica Williams (piano), Dave Friesen (bass), Kenny Werner (piano), John Patitucci (bass), Billy Taylor (piano), Chip Jackson (bass), Conrad Herwig (trombone), John Clayton (bass), and none other than the granddaddy of them all, the late and one of the greatest bass players of all time Ray Brown. Donnie graduated in 2002 with a BA in Music and a BM in Jazz Studies Performance on Double Bass.

Donnie arrived in the South Wales in 2003. It wasn't long before he was working regularly on the local jazz scene. In 2004, he joined the Keith Little Band, and since arriving in the UK has played with Linda Gail Lewis, entertainer Mike Doyle's backing band, been featured in the BBC's commercial for the Brecon International Jazz Festival 2004, appeared with the Richard Harris trio on Chris Evan's ITV 1 show, "OFI Sunday", and made several media appearance with the up and coming singer Rhian Grundy. He has already toured throughout much of the UK, and been across the channel to festivals in Germany, and even playing for the Queen's Birthday in Rome.